Hey, remember when I said I really wanted the new Toy Story Collection Jessie like, one article ago? Well... guess what I got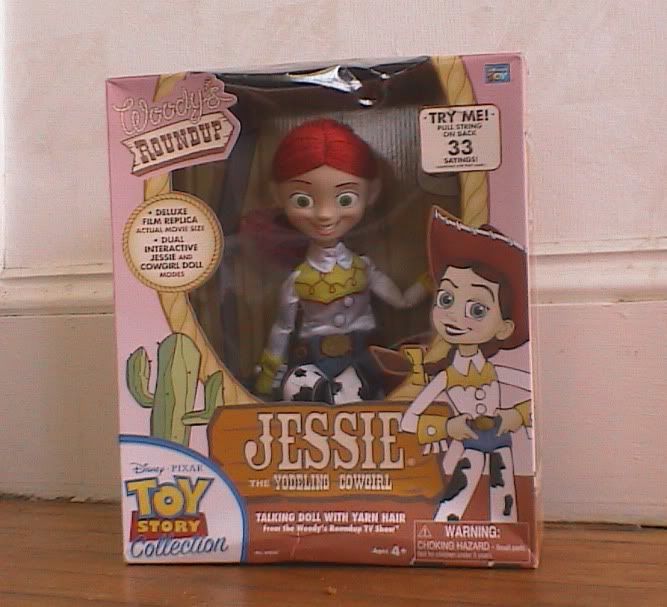 Hey, how'd you guess? As you can see, she comes in a fantastic re-creation of the Woody's Round-up box. I love how "in character" this box is. Except for the "Toy Story collection" logo in the corner, this looks exactly like how Jessie's box would look like. Although I find it rather funny how Jessie is described as a "talking doll" while Woody is described as a "talking figure" even though they're made pretty much the exact same way.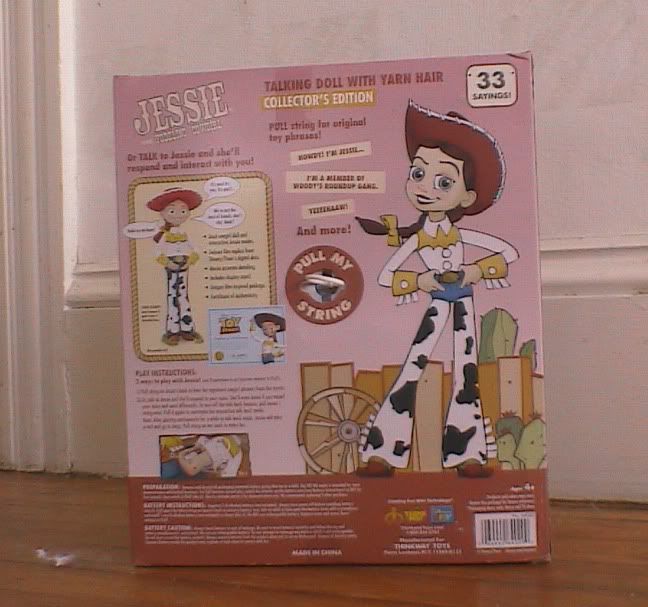 The back of the box gives us a great box art (something you don't see in toys very often these days) and gives us a chance to try out Jessie's talking feature.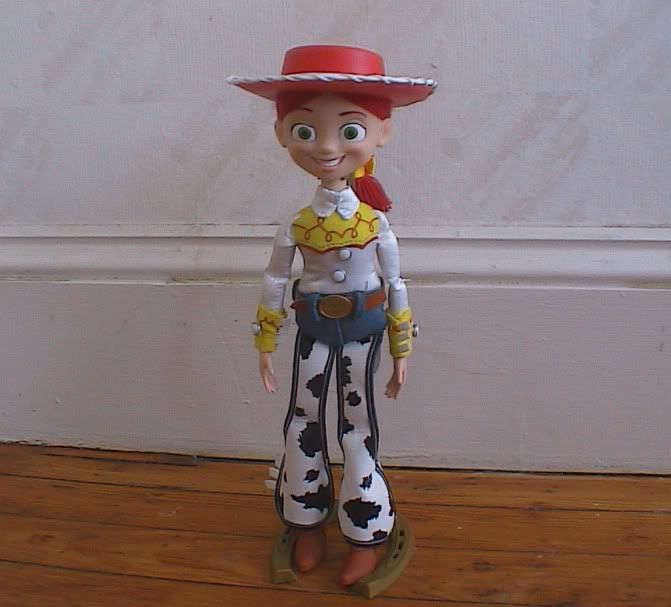 Out of the box, Jessie looks absolutely fantastic. She comes with a stand for displaying and her hat. The hat is a soft rubber material that fits well on her head. Although at times, the hat has fallen off her when I pick her up.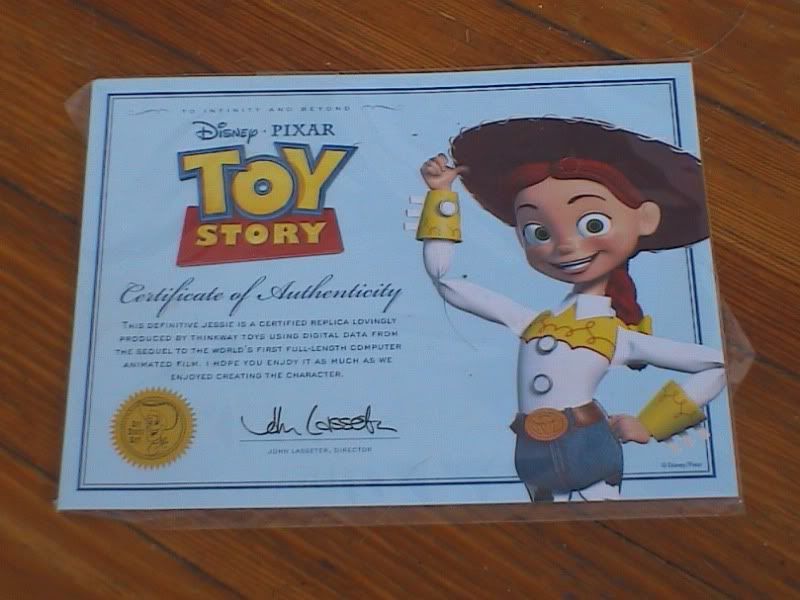 She also comes with this certificate of authenticity signed by John Lasseter.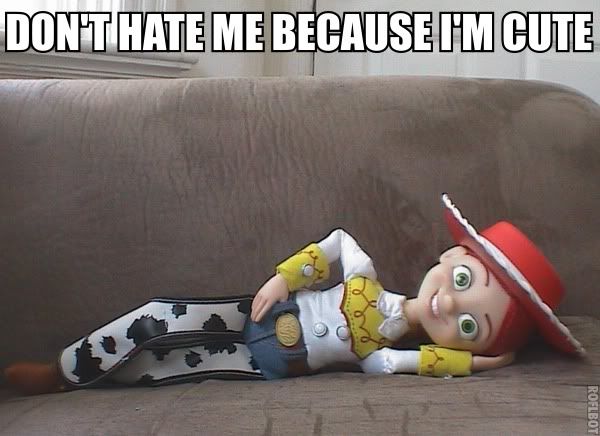 This doll's details are perfect. Everything that should be made of cloth or yarn is. Her hair is yarn, most of her body is made of a soft fabric and even her hat has string going around the rim.
The toy has two modes. Demo and play. Demo is the version it comes in when in the box and play offers interactivity. But to activate goes down in my opinion as the most awkward way to activate a toy I have ever seen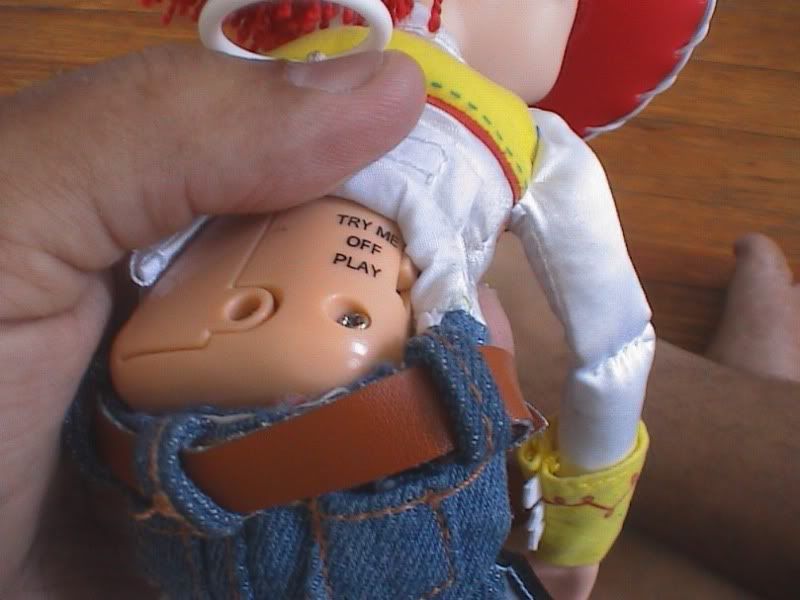 That's right. Her on switch is on her butt and you gotta pull down her pants to activate it. Because nothing says "family friendly playtime" like pulling down a woman's pants. But once you do, Jessie will greet you and from there, will respond to your voice with various phrases. The box says she has 33 phrases and while I've had her for almost a week now, I STILL haven't heard all of her phrases. Some of my personal favorites are;
"You haven't seen WooDEEE or Bullseye, have ya?"
"IT'S YOU IT'S YOU IT'S REALLY YOU!"
if you speak too loudly she'll say;
"Is it me, or did someone turn up the volume?"
and if you say nothing she'll say;
"Yoo Hoo! Anybody here?"
If you STILL say nothing she'll say;
"Hellooo!!"
She'll challenge you to a laughing contest (I still haven't beaten her) ask you what kind of things you like, and sometimes sings Home on the Range. After playing with her for a while, she'll yawn and say she's tired and is "gonna get a little shut eye"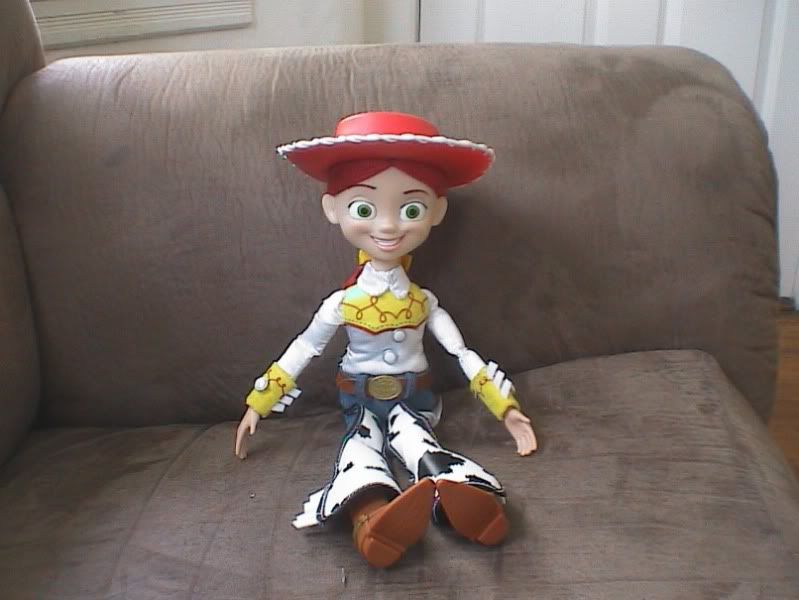 Needless to say, this is a wonderful toy. The best Jessie ever made. And at 49.99 she damn well better be!
Well... if you want me to nitpick... her ponytail is technically too short and too thick, the buttons on her shirt aren't aligned properly, the flaps on her collar are in funny positions and though the eyes on mine are alright, there were quite a few at the store with a little sloppy paintjobs. But the little things they got right by far outweigh the little things they got wrong. She's by far the best Jessie toy ever made. Although if you saw my last article, you'd know that's not very har...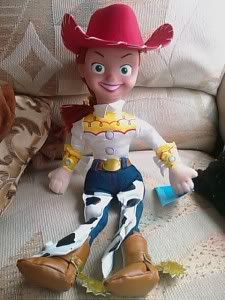 OH MY GOD! SOMEBODY KILL IT!! AUUGH!!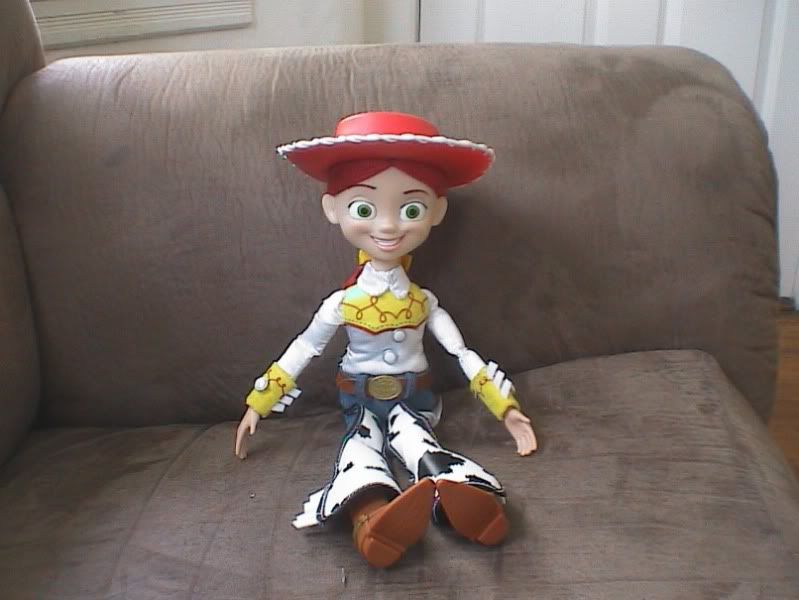 Phew, okay now. I got mine at Toys R Us though I hear they're also being sold at the Disney store. I wouldn't know since the only Disney store in my area was in a mall that was recently flooded and will be closed until August. The Toy Story collection Jessie is expensive at 49.99 but she's well worth it if you're a big fan of the character or of the series in general.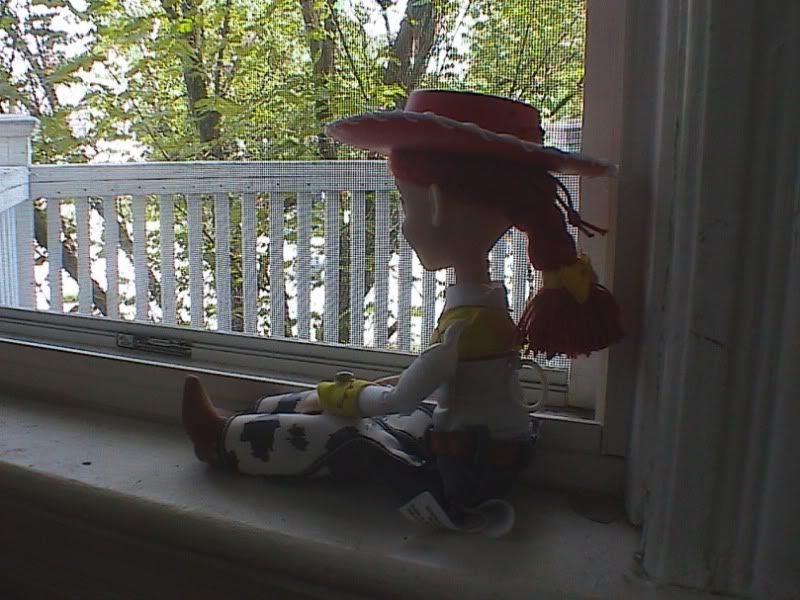 "I thought I'd get one last look at the sun... before I get packed away again."
Don't worry Jessie. You'll never get packed away as long as I own you :D